Tagged from Virgie. Thanks a lot Ghie. I really like doing this meme. It gives me information on where other Filipinos are located. It's not only in the Philippines but around the world. Filipinos are travelers and adventurous. I'm proud to be one!

~ Start copy here ~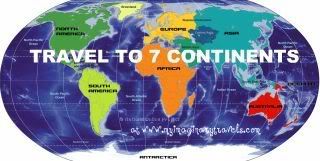 Rules :
1. Start Copy from "Begin Copy" until "End Copy".
2. Put your blog's name and url write in which continent you live, add the country you live in. Example :
My Imaginary Travels
(Netherlands)
3. Leave your url post
in here
and I'll add you to the Master List.
4. Please help spread this tag by tagging your friends as much as you can.
5. Don't play unfair! If you have more than 1 blog, you can participate all your blogs for this tag. BUT you will have to post this tag to all your blogs as well. So, please. Don't cheat!
6. Please come back again to copy the update of the master list, often. This process will help new participants to get the same gains as the first participants.
7. Don't forget to use the banner at your post, you can save as or you can just copy the code
in here
.
Master List :
A. Asia : 1. Moms... Check Nyo (Philippines) 2. Aeirin's Collections (Philippines) 3. Jenny and Belle(Philippines) 4. Hailey's Beats and Bits (Philippines) 5. Appleofmyeyes(Saudi Arabia) 6. Deranged Insanity (Philippines) 7. your turn


B. Australia : 1.


C. Afrika : 1. your turn
E. South Amerika : 1. your turn
F. Europe : 1. My Imaginary Travels (Netherlands) 2. Juliana's Site (Netherlands) 3. Picturing of Life (Netherlands) 4. your turn

G.
Antarctica
: 1. your turn
~ End Copy ~
Tagging along :
Fil-Am never ending stories
,
clark&butchay's blog
,
dezz spices in life
,
just me...eds
,
winding towts
,
simply pinay
,
a mother of today, yesterday and tomorrow
,
random thoughts,
yesterday, today and tomorrow
,
my world in my own word
,
twerlermz' blog
,
abby
,
anah
,
fel
,
jenn
,
julai
,
marie
,
ness
and
shareen
.